BIOGRAPHY
There are a handful of men who have the title of "Godfather" of house music, and while many have legitimate claims to the title, because of seniority and being there at the beginning, one stands out from the crowd as being the one that actually defined not only House music, but dance music itself as we know it today.
His name is Marshall Jefferson, and when in 1986 he played piano on a house record for the first time ever, the idea was so innovative that record companies told him that it wasn't even house music. That record was the platinum "House Music Anthem", and today you rarely hear a house record without piano.
.
Since then, Marshall's list of accomplishments in House music read like no one else; in 1987 he produced the first ever "Acid House" record "Acid Tracks" using the TB 303, and simultaneously launching the successful career of DJ Pierre. He also produced the first house records incorporating old time soulful spiritual vocals, launching the successful careers of Ten City, Kim Mazelle, and CeCe Rogers. All those early songs are blueprints for what we recognise today as deep house, garage music, techno music, and the TB 303 is the most sought after instrument for techno artists and producers.
It seems like almost every song Marshall produced turned into another form of music, but he was often oblivious to this at the time; "I just wanted my songs to sound different from each other," he says. Marshall also became A and R of Trax records in its "golden years" signing some of dance music's most influential Artists alongside whom he was also the headline act in the worlds first ever House music tour stopping in Europe and the UK in 1987. The list of careers that Marshall has helped or launched reads like a who's who of dance music; Roy Davis Jnr, Felix Da Housecat, Lil Louise, Frankie Knuckles, Steve "Silk" Hurley, and many others, not including the thousands of producers and DJs that have been influenced by him.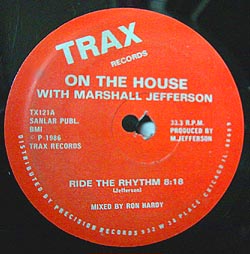 The most impressive thing about Marshall however is what separated him from all the others; his ability to consistently write the classic song combining emotional lyrics and timeless melodies. He is far and away the most covered songwriter in the history of dance, with his back catalog containing more than two hundred covers and sample licenses.
Despite his meteoric rise to success he was not without his setbacks. In 1990 after over half a decade of global hits Marshall was to receive what at the time seemed like the greatest opportunity of his career. Big beat records offered him an unprecedented million-dollar budget to produce an album on singer Vikki Ryan who was tipped to be the next big thing in dance music. The project gave him the chance to work with some of the greatest musicians the world had to offer including full orchestral backing by the entire Chicago symphony orchestra on every track. But sadly in a strange twist of fate half way through the monumental project the A and R man at big beat was fired and all works in progress on the entire label were shelved. Having spent over a year of his life recording putting his heart and soul into the project Marshall became depressed and despondent losing all faith in the music industry and its messy politics. In that moment he decided to retire on the fortune his success had granted him and Marshall slipped out of the limelight to live a quiet life with his close friends and family. To this day that unfinished album has never been released or even heard by anyone other than Marshall and his production team.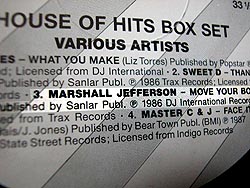 In early spring of 1993 however after a 3yr absence Marshall Jefferson was coaxed back to the roots of Djing in which he had left behind in the early eighties to perform a charity gig in London's Café de Paris in a special surprise performance. Such was the response that night and the massive demand that followed to bring him back he felt some of his passion and love for the music return and soon after decided to come out of retirement. That as they say is history and now nearly ten years on he is one of the most prolific DJs to come out of Chicago having played at every major club and event across Europe and the world.
His sets subtle blend of deep house, tribal beats and New York style Garage Music have seen him in constant demand ever since. He capped off a five-year residency for the tribal gathering and big love events with a Major CD release. Joining forces with co residents Gayle san and James Lavelle to blend their differing styles charting the events diverse roots and history the 3 collaborated to make the album a solid gold 50,000 selling success!
Off the back of this his constant touring of the world continued but it was not until a collaboration in 2001 with milk and two sugars at London's "The End" yielded his next DJ album. This release "Welcome to the world of Marshall Jefferson" coincided with a major UK Network television documentary "Pump up the volume" on Channel four, which charted the history of house music from its earliest beginnings. Marshall's major contribution to this program and the recognition it gave him on screen strengthened his legacy to the younger generation and created a fabulous new wave of young fans for Marshall who cherished the new Album and its inclusion of rare house music classics that many of them had never heard.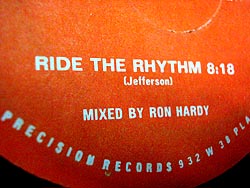 This new demand for retrospectives and a growing trend towards retro club nights across Europe eventually led Marshall to spawn a project that would give this new generation a chance to learn about the music that led to the creation of this "house music" that seems to have changed the worlds youth culture so much. In October 2003 he will release a double album spanning the key years that inspired the birth of this global phenomenon showing the links between such early artists as Isaac Hayes, The Pockets and Inner Life and how they had a direct effect to pioneering house legends such as Fingers inc, Jamie principle, Joe smooth and of course Marshall himself. "Move your Body <The Evolution of Chicago House>" will become a memorable and collectable artefact from one of dance music's most enduring and durable movements!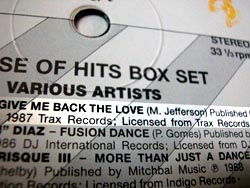 Althrough this period since his return to Djing still scarred by the experience of the Vikki Ryan fiasco his producing has taken an almost non-existent back seat in this phase of his career. In fact he has rarely recorded any lone Marshall Jefferson Productions in the past ten years except perhaps less than a handful of underground offerings usually known only to specialist collectors and other DJs. Despite this all is not as it seems. Marshall is finally preparing a return to producing some time in the near future as his long sabbatical has given him time to collect new ideas and inspiration to begin the writing phase of what will become a monumental return for one of House music's most revered living legends. Whatever way dance music has progressed through the years you can be sure he has been part of that, so we ask one question? In what direction will he take it now?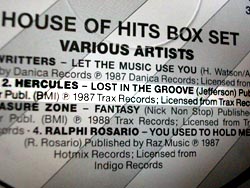 SHORT INTERVIEW OF THE LEGEND
Could you tell us what was it like back in the eighties when it all started and, perhaps, compare it with how it is today?
There are too many records coming out now. Back then, there were only about 15-20 new dance records a week coming out, so if there was something special, EVERYBODY played it. Now, if something great comes out, it gets lost in the crowd of bullshit that comes out the same week. A record could be a hit one week, and then nothing the next now. Back then, hits would play for more than a year. With that in mind, there were a lot more songs that people could connect to and fall in love with. We knew the names and artists of all the records we loved.
It is well known that it was your track, «Move Your Body» that was the first house hit ever and that you were the first to make acid and deep house tracks. Back then, did you at any stop and think to yourself: «These tracks could be big.» ?
I thought move your body was going to be the biggest thing since sliced bread soon as i finished it. No, i KNEW it. I took it to the Music Box the same night and Ron hardy played it on cassette-6 times in a row. But Move Your Body wasn't the 1st house hit ever. "Music Is the Key" By Jm Silk hit and sold about 100,000 copies, "Like This" By Chip E, "MInd Games" by Qwest, all came out on record before Move Your Body. "No Way Back" by Adonis also was big. I also had songs out before Move Your body, at least 15 of my records were playing in the clubs, some have never come out to this day. "Move your body was playing in the clubs almost a year before it finally came out on wax, and was so huge before it came out that i was doing regular interviews with European reporters before it even came out.
Since we live in era of vast technical posibilities when it comes to electronic music making, there will be more and more artists and more and more music. Do you think it could effect the scene in a negative way?
If they make crap, yes. We don't need more bullshit cluttering up the market hiding the good records, we need special songs and hits that mean something, or everything is going to die.
Of all of the electronic music genres, house is deffinitely the one that has more than any other made its way into mainstream. What do you think of it?
I feel house has never truly made the mainstream in its pure form.
I think house has moved away from vocals and concentrated more on instrumentation, and that's slowly killing the scene. It's not really the producers intention, but they're at fault. See, no matter how good the instrumentation is, someone somewhere is going to copy it. A good song with good vocals will somehow find a life and lift the scene.
When it comes to all of the genres, we know that European electronic music is somewhat different than American, in general. What about the crowds at the parties? Do you see or feel the difference?
Well, the American scene is pretty different because they don't exactly know what's going on. There are some pretty weak American DJ's because they don't know what's going on either. They read about it, but they don't hear it. It's a shame because technically, a lot of them blow the European Dj's totally out the water. On the other hand, European Dj's blow the Americans out of the water musically. Back to the crowds, the Americans are certainly more energetic than their European counterparts(when they hear the good stuff) because they're less jaded.
How important is the role of clubs for the promotion of electronic music?
It's very important. If the clubs don't play a certain genre, that genre will die. Clubs however, need to get together and have a summit of some sort. They need unity and organisation or they'll all die. All genres need to play on one dance floor.
We heard that video games are a great passion of yours. Is that true?
yes.
Is it true that you'd like to make movies?
Yes, I would like to direct. Maybe just 3 movies or so and stop, but make those movies special.
What is house music all about?
House music in the beginning meant the BEST underground music................music that britney Spears would never sing, but was absolutely the hippest shit possible. House music didn't have a set 4 on the floor beat. "Hip Hop Be Bop" by Man Parrish was House. "Sweet Dreams" By Eurythmics was house. "Walk The Night" by the Scatt Brothers was house, and they was pretty techno sounding. It was never supposed to be a certain beat or a certain groove. When I 1st did "Move Your Body", everyone was so screwed up at that point that they said it wasn't house music, even though it was playing in all the house clubs. The problem was the piano. What they didn't realise was what I had connected to---the fact that anything that was hip enough was going to be played in the house clubs, and I proved that time and again after that with records like Acid tracks and Open Our Eyes, as well as the Ten City stuff. If clubs went by this philosophy, the scene would get new life.